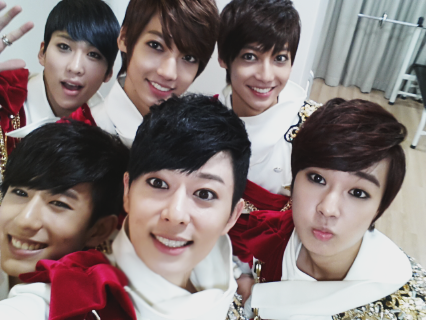 ORIGINAL: [광민] WOW!!
야누스 컴백이 끝났어요! 오랜만에 우리 베스트프렌드랑 만나고 무대에서 멋진 모습 보여줄 수 있어서 너무 신났어요! 여러분은요? 어땠어요??? 궁금하다!! 오늘 비 오고 날씨 많이 추웠는데 와줘서 너무 고마웠어요! 빼빼로는 잘 받았나요? 우리 사랑을 가득가득 담아 보냈어요ㅋㅋㅋ 무대에서 보니까 우리 베프 너무 예쁘더라구요~~ 베프가 짱! 못 안아줘서 아쉬웠지만 담주에는 꼭~ 오늘 고생했구 잘자고 내꿈꾸기예용!! -[B.F광민]
2012.11.11 일요일
베프가 너무 좋은 KM!
TRANSLATION: [Kwangmin] WOW!!
Janus comeback is over! After long time meet with our Bestfriend so exciting can show you cool look! Did everyone exciting? How was it??? I'm wondering!! Thank you so much for coming even today is rainy and the weather is so cold! Did you received our Pepero well? Did you see we put a lot of loveㅋㅋㅋ Our Bestfriend really pretty when we look from the stage~~ Bestfriend jjang! Although feel lack of for not hug but it will be next week~ Today I feel so tired, sleep well and dream of me!! -[B.F Kwangmin]
2012.11.11 Sunday
Bestfriend of KM really good!
Credit: @G_Girlfriend on Twitter

Source: Boyfriend's Daum Cafe